.01
about me
Described by Opera News as "a confident singing actress with a magnetic stage presence" who "sang the most demanding of arias with seemingly little effort," soprano Katherine Weber made company debuts in the 2017-18 season as Violetta in La Traviata with DuPage Opera, the Boulder Symphony, and under the baton of George Manahan at the Aspen Festival. Her upcoming engagements for the 2018-19 season include the title role in Tchaikovsky's Iolanta with Chicago Opera Theater, and a return to DuPage Opera as Rosalinda in Die Fledermaus.
In the 2016-17 season, Katherine joined Virginia Opera to cover Nedda in Pagliacci, and performed with the Northwestern University Symphony in concert for the regional premiere of the contemporary piece "A Shout Across Time," where she was lauded by Splash Magazine for adding "both richness and body to the piece." She was also featured as a soloist in Beethoven's Mass in C, Vivaldi's Gloria, and the Mozart Reqiuem with the Winona Oratorio Chorus and Orchestra. Other recent performances include two seasons with Opera for the Young, in Madison, Wisconsin, where she toured as the title role in Rusalka, and as Pamina in Mozart's The Magic Flute. In addition, she joined the Florentine Opera in concert performances as a featured soloist, and bowed as the soprano soloist in Handel's Messiah at her alma mater, Viterbo University.
Katherine spent two summers as a young artist with Central City Opera, where she first performed the role of Violetta in the family performance of La Traviata, covered Kitty Hart in Dead Man Walking, and sang La Paysanne in Don Quichotte chez la Duchesse.
A decorated award winner, Katherine has been a regional finalist at the Metropolitan Opera National Council Auditions twice (2017, 2015), in addition to winning multiple encouragement awards. She has also been the recipient of the Award of Excellence and the Lew Cady Memorial Award, both from Central City Opera, the Bain Fellowship from Indiana University, and was a two time winner from the Schubert Club Competition.
Katherine graduated from the prestigious Jacobs School of Music at Indiana University, where she studied with Costanza Cuccaro. For her performance of Hanna Glawari in The Merry Widow, the Herald Times said she "soared" and "danced nimbly." Other performances at Indiana include Catherine in A View from the Bridge and Suor Genovieffa in Suor Angelica.
Originally from Holmen, Wisconsin, Katherine is a proud graduate of Viterbo University in La Crosse, Wisconsin. While completing her Bachelor's of Music in Voice, she continued to be active as a dancer, in which she has more than twelve years experience in jazz, ballet, pointe, and tap.
Katherine is based in Chicago, Illinois, and currently studies with Vinson Cole. When she isn't performing or practicing, she can be found cooking with her family, working out, laying on the shores of Lake Michigan reading a good book, or playing with her favorite nephew.
Weber brought dramatic conviction and touching sensitivity to Iolanta throughout, making her a naturally sympathetic and credibly sightless heroine without resorting to caricature. -Chicago Classical Review
Cast led by Katherine Weber, whose dominant performance in this engaging production was simply stunning -Opera News
Weber had little trouble with the role's many vocal and dramatic challenges, which served to showcase a confident singing actress with a magnetic stage presence and abundant potential.-Opera News
She sang the most demanding of arias with seemingly little effort.
-Opera News
Spinning a lovely mezza-voce, she delivered a heart breaking "Addio del passato," dropping to the floor to sing the last stanza sprawled flat on her back. -Opera News
Hers was the most formidable voice in a consistently strong cast, her top register soaring easily above the most densely written choral passages. -Chicago Tribune
Katherine Weber…is a singer to watch very closely. She is much more than just another cookie-cutter soprano, her large distinctive voice is sweet and sturdy, with a wide spectrum of color, and burgeoning with tremendous promise. -Buzznews
As Hanna, Katherine Weber portrayed the merry widow indeed; what's more, she soared, her thespian abilities took hold, and, when called upon, danced nimbly.-Herald Times
As Violetta, the "fallen woman" of the title, soprano Katherine Weber conveyed a level of dignity and vulnerability with her acting and a voice that hit high notes with a steely edge.-Aspen Times
She caressed the mid-range with welcome warmth-Aspen Times
What matters most…is the singing, and soprano Katherine Weber as Iolanta dispatched Tchaikovsky's long, flowing melodic lines with as much ardor as musicianship. -Chicago Tribune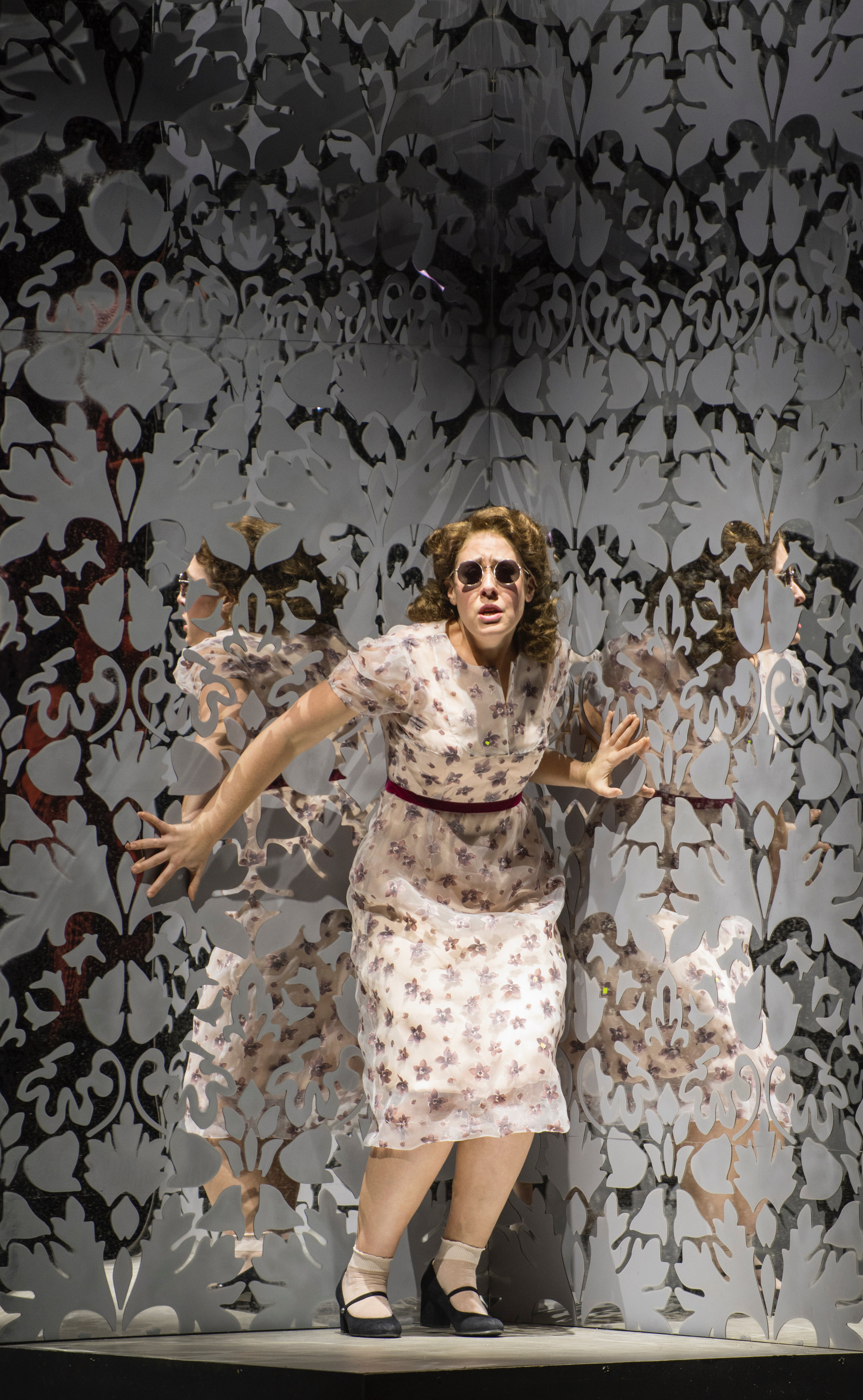 Operatic Roles
Nedda Pagliacci MIOpera 2019
Rosalinde Die Fledermaus DuPage Opera 2019
Iolanta Iolanta Chicago Opera Theater 2018
Violetta La Traviata Boulder Symphony 2018
Violetta La Traviata DuPage Opera 2018
Violetta La Traviata Aspen Festival 2017
Nedda (cvr) Pagliacci Virginia Opera 2016
Pamina Die Zauberflöte Opera for the Young 2016
Violetta (cvr)* La Traviata Central City Opera 2015
La Paysanne Don Quichotte chez la Duchesse Central City Opera 2015
Kitty Hart (cvr) Dead Man Walking Central City Opera 2014
Mrs. Charlton Dead Man Walking Central City Opera 2014
Hanna Glawari Die Lustige Witwe Indiana University 2012
Catherine A View from the Bridge Indiana University 2011
Suor Genovieffa Suor Angelica Indiana University 2010
*family performance
CONCERT
Soloist Haydn Creation Winona State University 2019
Soloist A Shout Across Time Northwestern University 2017
Soloist Beethoven Mass in C Winona Oratior 2016
Soloist Opera Concert Florentine Opera 2016
Soloist Poulenc Stabat Mater Fourth Presbyterian Chicago 2016
Soloist Mozart Requiem Wiona Oratorio 2015
Soloist 125th Anniverfsary Gala PBS 2015
education and training program
Aspen Music Festival Opera Fellow Aspen Music Festival 2017
Virginia Opera Young Artist Virginia Opera 2016
Bonfils-Stanton Young Artist (Apprentice Artist) Central City Opera 2015
Bonfils-Stanton Young Artist (Studio Artist) Central City Opera 2014
M.M. -Vocal Performance Indiana University 2013
B.M. -Vocal Performance Viterbo University 2010
teachers directors conductors coaches
Vinson Cole-Current Edward Berkeley John Baril Michael Baitzer
Costanza Cuccaro Garnett Bruce Adrian Kelly Bill Billingham
Daniel Johnson-Wilmot Kenneth Cazan Craig Kier Bettie Buccheri
Paul Curran Constantine Kitsopoulos Lauren Flanigan
Michael Ehrman George Manahan Tom Getty
Candace Evans Kirk Muspratt Eric McEnaney
Stephanie Havey Dale Rieling Kevin Murphy
Corinne Hayes Adam Turner Shelby Rhoades
Kyle Lang Lidiya Yankovskaya Jay C. Rozendaal
Michael La Tour Christopher Zemliauskas
Vince Liotta
James Marvel
Elise Sandell
Keturah Stickann
\
.04
———schedule———
Soloist Pops Concert New Philharmonic Orchestra Summer 2019
Soloist Pops Concert Northwest Indiana Orchestra Summer 2019
Soloist Faure Requiem First Presbyteriam of Wheaton, IL September 22, 2019
Soloist Beethoven 9 New Philharmonic Orchestra September 28 and 29, 2019
Soloist Beethoven 9 Northwest Indiana Orchestra October 25, 2019
Valencienne The Merry Widow DuPage Opera/New Philharmonic January 24, 25, and 26 2020
Soloist Carmina Burana Northwest Indiana Orchestra April 2020
THANK YOU SO MUCH FOR STOPPING BY! PLEASE FEEL FREE TO DROP A LINE :)